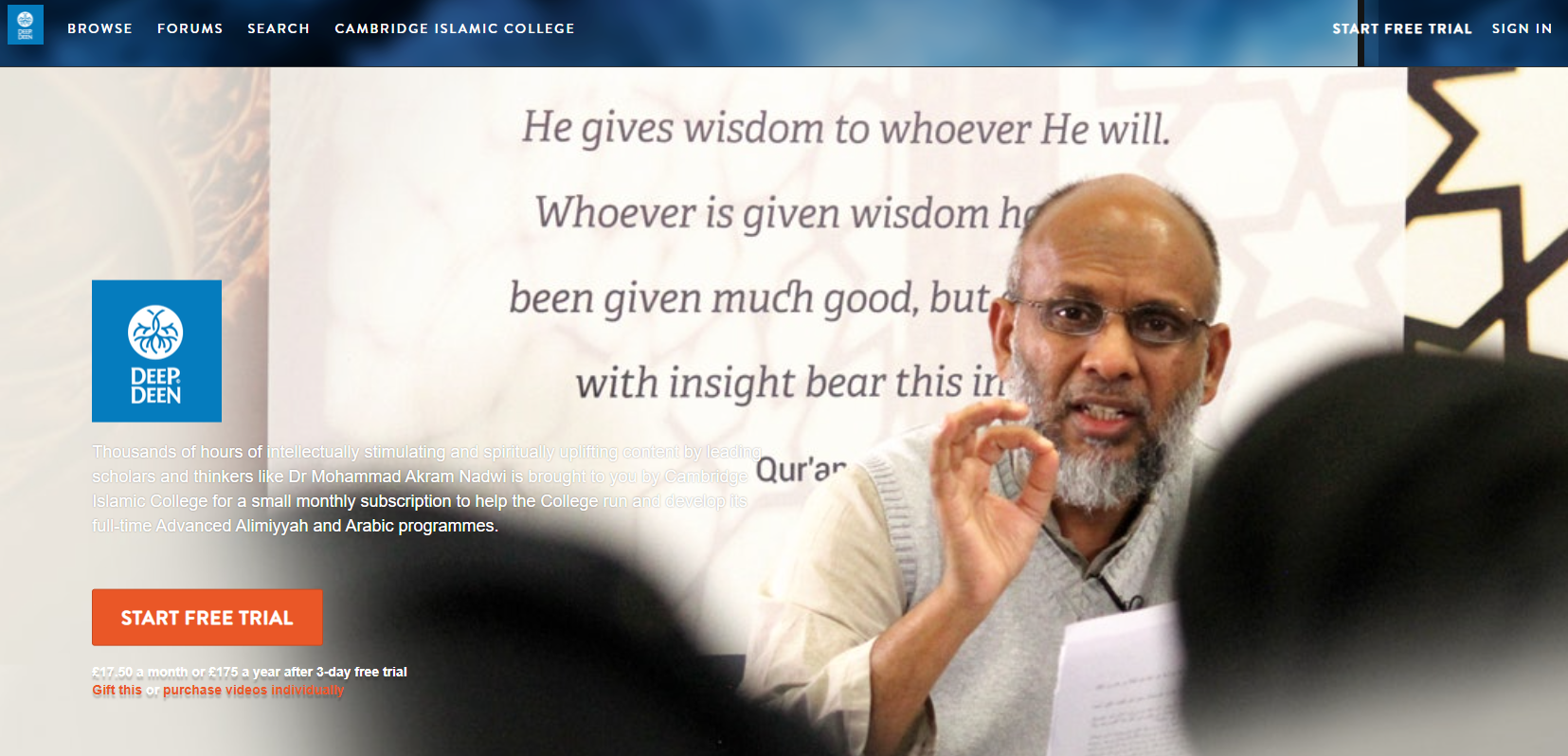 We are not running most of our online Diplomas and short courses as structured courses anymore, however you will be pleased to know that all the lectures from those Diplomas and short courses are available on our unique streaming platform DeepDeen! 
As a DeepDeen member not only will you have access to thousands of hours of recorded lectures, you will also have free onsite and online access to our monthly Tafsir- Surah Al Imran course. In addition, you will be granted access to fortnightly live Q & A sessions with our Dean and founder, Shaikh Dr. Mohammad Akram Nadwi. 
Why use DeepDeen? 
Unparalleled depth of learning: DeepDeen is the perfect platform for your journey into learning about the intricacies of Islam and the Arabic language, due to the quantity of in-depth content available from the esteemed Sheikh, Dr Mohammad Akram Nadwi. 
Convenience:  
The best part of studying via DeepDeen is that you will have unlimited access to all the lectures as soon as you subscribe so you can study at your own pace, from the comfort of your home. 
Cost?  
At just a fraction of the original Diploma price DeepDeen is great value for money too. Subscriptions cost just £17.50 p/month which makes studying for your diploma in this way not only time effective but cost effective too. 
Receiving a Diploma. 
For all of the online diplomas available on DeepDeen you will be able to sit an exam at the end of it. Once you feel ready to sit the exam, simply let us know your preferred date and time by emailing us at info@cambridgeislamiccollege.org and we will book an online exam for you. Once the exam has been graded by us, you will be sent a certificate of completion for the Diploma along with a transcript which will include your grade. The cost for this certification is £50.00 per exam. 
Diplomas available on DeepDeen:
Arabic studies - Balagha  |  Islamic Studies  |  Tafsir 
|  Hadith  |  Fiqh  |  Islamic Theology  |  Islamic History